Featured projects
RTSAustralia - Bystro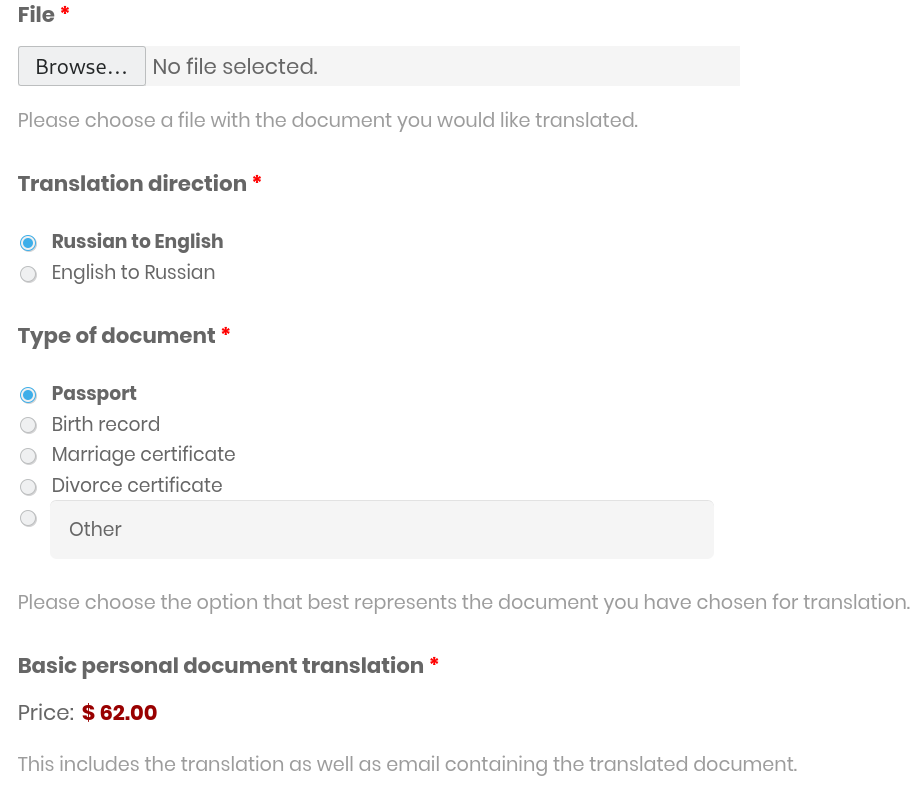 To optimise the business process of exchanging translation details for Russian Translation Services Australia, I created Bystro - a sophisticated online form which handles a range of common documents automatically. The customer is taken through a series of streamlined steps optimised for their document type, in order to let the translator know about preferred translations of subjective components like given names. Furthermore, payment is collected directly online. This significantly reduces the burden on translators, who do not need to contact the client directly to confirm the preferred translation or to ask for payment. Finally, the system generates consistent PDF files once the translator has completed their work, meaning there is no more copy-paste into chaotic templates.
chipbox

My biggest low-level project to date, chipbox is a cross-platform CHIP-8 emulator/interpreter written in Standard C and utilising the SDL2 library. Although its games are humble, this program has given me a greater appreciation for low level and especially emulator development. By using test-driven development (TDD), compatibility with existing CHIP-8 software was excellent as soon as all opcodes were implemented.
Online Shopping Manager
Online Shopping Manager is an easy to use web utility designed for managing online shopping across the plethora of websites available today. It aims to centralise order information and simplify the human's task of managing inventory and filing delay complaints. Of course, it can be repurposed for similar activities, such as store inventory management, contract work, and more. Built with HTML, CSS, JavaScript, Bootstrap and PHP.
More projects
unmaze
A maze solving program where you can draw your own maze, and see how the algorithm solves it! It has some nice settings, such as tile size, speed, and maze size. You can also export and import mazes through the URL. Try it out here.
Fantastic Pizza
Fantastic Pizza is a web presence for a food business, featuring responsive design, a custom layout, dynamic page generation, advanced input validation, and persistent storage writing and retrieval.
crypto-toolkit
A collection of cryptographic ciphers and algorithms implemented in JavaScript. Don't use them in serious projects though, because I'm not a professional cryptographer, and they don't really follow strict standards. Try it out.